Browse - Elizabeth II (Decimal from 1971) - Choose Subsection
A FEW WORDS ABOUT THE MODERN MACHINS
The listings of these stamps have now been updated on the website to follow the CONCISE 2021 Gibbons stamp catalogue. Almost every year some part of this section is renumbered by Stanley Gibbons. I list the date of issue (where known) plus the stamp is pictured so if you are using an older catalogue or trying to fill a gap in your printed album you should still be able to work out which one you need. The latest versions of the Machins are called SECURITY MACHINS and have the letter "U" prefix to the catalogue number. The stamps have a swirling iridescent background around the Queens's head. Incorporated within the background are sometimes source codes and date codes all of which are visible to a good pair of eyes or a good glass. Some stamps have several different year dates and are listed by me if I happen to have them. These are listed as a suffix number to the main "U" number. Note my stock is NOT complete - but it almost is!


Please choose the section you would like to see from the box on the right of this text. Items shown in Specialist Items, Panes, Errors & Varieties is the actual item that will be sent. See text shown below the stamp illustrated on this page for what's listed where!

Don't forget, for COMPLETE definitive or Commemorative sets click the link on the home page of the site to take you there.

Blocks of four can be supplied for most issues at no extra premium, please email me your wants list.
Random Item...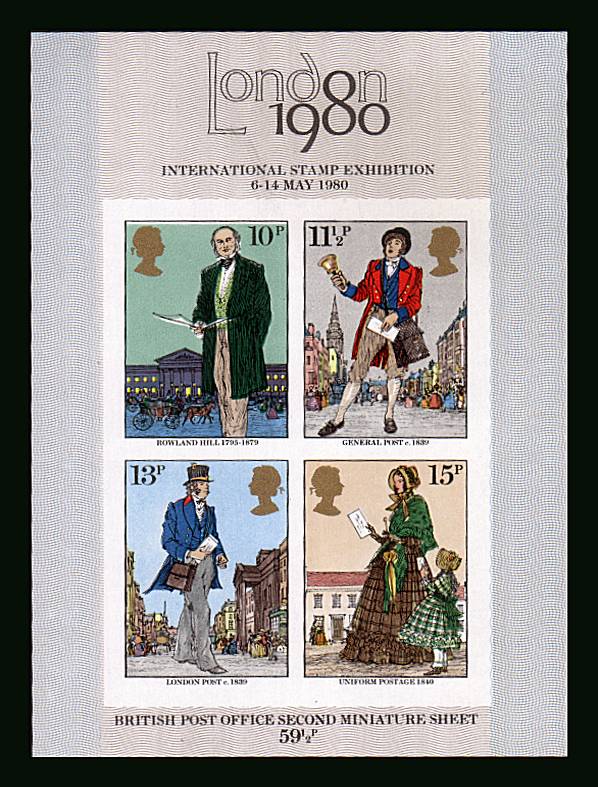 SG MS1099a
-
1979
Sir Rowland Hill
The minisheet superb unmounted mint completely IMPERFORATE. Just six are recorded and some of those are with faults. This sheet is completely faultless and very rare! Terms available.
SG Cat £4000
ERRX
UM:
£3500.00

Add to basket
---
BASIC STAMPS:
Mint and used stamps
SPECIALIST ITEMS:
Errors, Varieties, Imperfs etc etc